Advice That Will Help You Learn How to Write an Essay
During the period of your studying, you will frequently get assignments to write essays. Whether it will be an essay for your class, for some contest or for admission, you need to know the rules and standards of academic writing and learn how to write an essay. This article contains a brief overview of the basic principles that will help you learn how to write an essay. Read on and get familiar with steps to write an essay like a professional writer.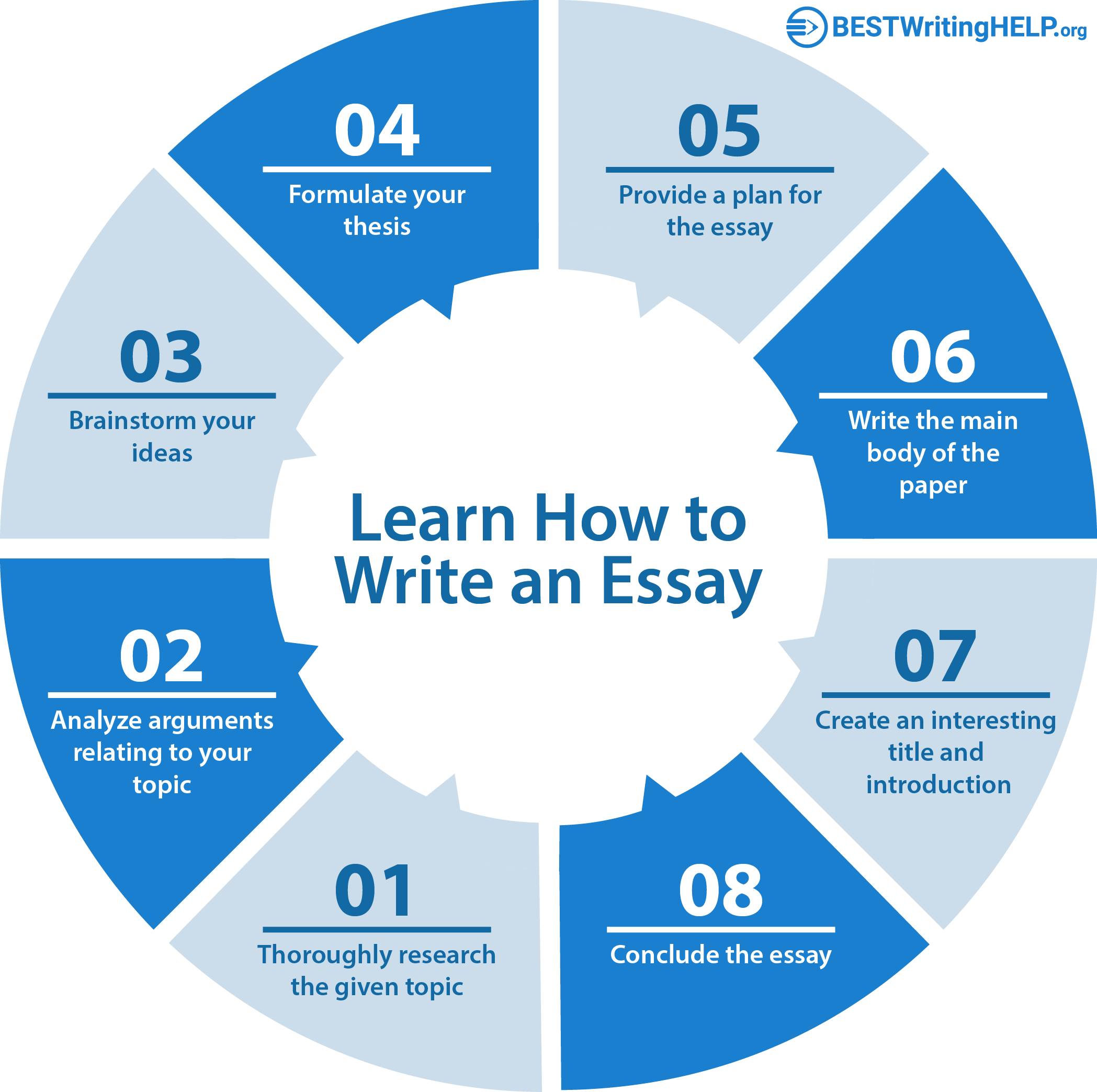 I. Learn How to Write an Essay
Thoroughly research the given topic. This part is an important one, especially if you need to write a research paper. Gather the sources and try to find information relevant to the topic. You can use library sources, online sources (but only credible ones), databases, etc. Make sure the sources you choose are suitable to the topic and not outdated. Do not rely on Wikipedia (NEVER cite it). You may use it to get some basic knowledge on a certain issue, but do not refer to it in your paper. Remember to take notes when you are researching the literature.
Analyze arguments relating to your topic. Examine the author(s)' claims, whether you agree or disagree with them (and provide justification why). Think for a while whether the evidence provided in the analyzed source is credible and logical.
Brainstorm your ideas. On the basis of what you have researched, draw a graph or make a plan of what ideas you want to include in the paper. You may use different strategies for effective brainstorming. For instance, you might draw a mind map or simply write down the idea separately in bullet points.
Formulate your thesis. One of the fundamental steps to write an essay is to know how to formulate a strong thesis statement. Look through the ideas you have gathered and choose the most important ones that you want to explore in the essay. Make sure you do not write a thesis in the form of the question. It is a big mistake. Besides, avoid first person usage as long as it is not required by the essay prompt or paper description. Mastering the skill of writing a proper thesis statement is one of the fundamentals when you learn to write an essay.
Provide a plan for the essay. When you learn to write an essay, you probably think that planning is totally unnecessary. However, it proves the contrary: when you provide a detailed plan, it is easier to further structure the paper and elaborate on the ideas.
As soon as you have designed a plan, move on to writing the main body of the paper. This is one of the key steps to write an essay that will help you earn a good grade. As you learn to write an essay, make sure that you consult different manuals and guidelines on how to properly structure the paragraphs and develop ideas.
Create an attention-grabbing title and interesting introduction. Think carefully what your target audience will be. They should be interested from the very beginning to want to read the paper till the end.
Conclude the essay. Summarize the points without repeating the main ideas word-for-word. If it was a research paper that you were writing, make sure to state how the thesis was proven and supported and what implications the study has.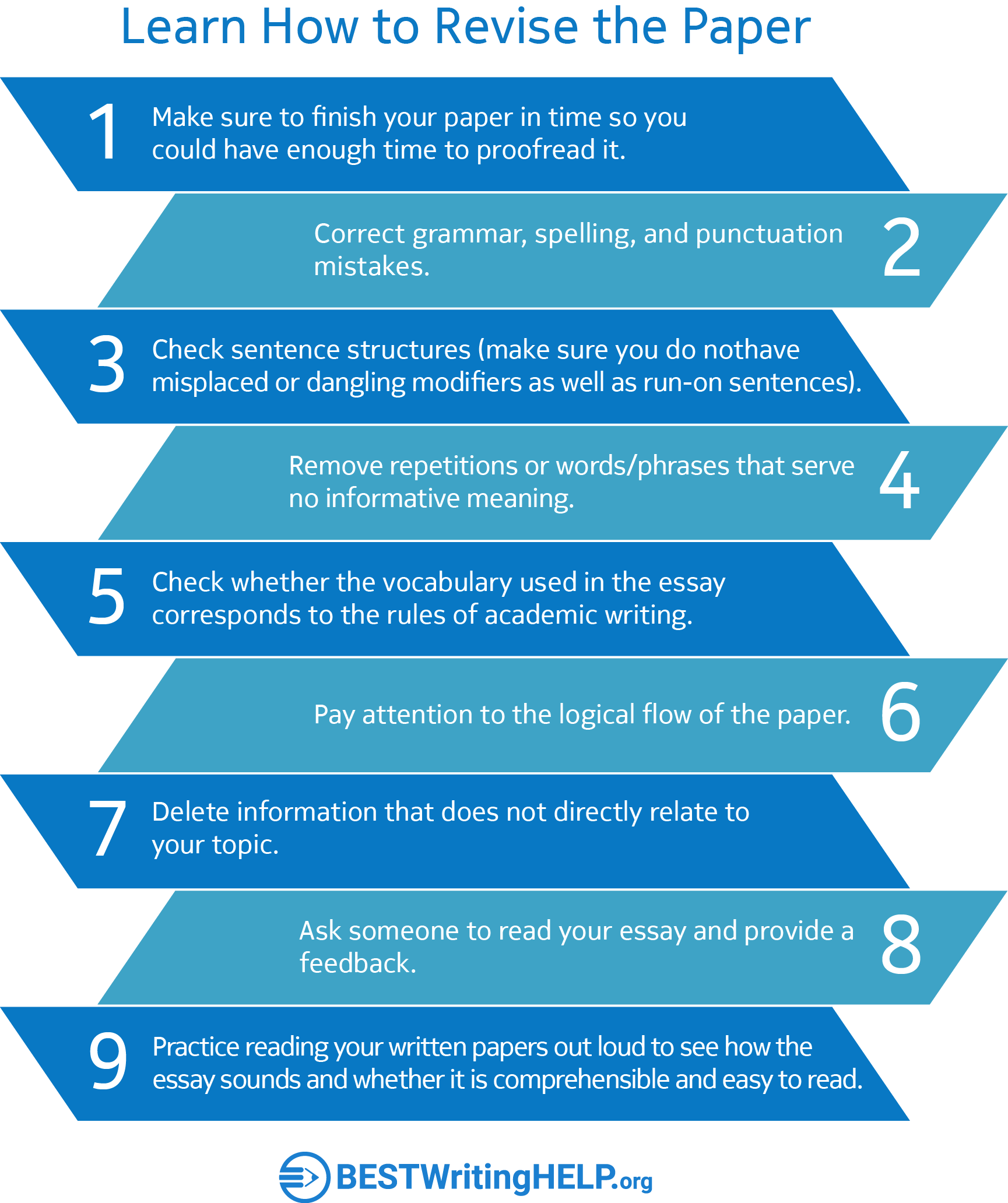 II. Learn How to Revise the Paper
Make sure to finish your paper in time so you could have enough time to proofread it.
Correct grammar, spelling, and punctuation mistakes.
Check sentence structures (make sure you do not have misplaced or dangling modifiers as well as run-on sentences).
Remove repetitions or words/ phrases that serve no informative meaning.
Check whether the vocabulary used in the essay corresponds to the rules of academic writing. Do not use colloquial speech such as contractions, slang, and flowery language.
Pay attention to the logical flow of the paper. Is it coherent and well-structured? Are there proper transitions? Is it easy to understand where you finish talking about one idea and switch over to the other one?
Delete information that does not directly relate to your topic. There is no sense in providing wordy sentences or paragraphs that have much general information. You should strictly adhere to the essay assignment.
Ask someone to read your essay and provide a feedback. It can be your family member, a friend or a teacher.
Practice reading your written papers out loud to see how the essay sounds and whether it is comprehensible and easy to read.
We do Our Best to be The Ultimate Essay Writing Company
At college, you will often receive essay assignments. They will surely differ in their types and structures. For example, you might be asked to write a persuasive essay, an argumentative essay, an expository essay or any other type. Still, the structure is more or less the same in all of them. The fastest way to write an essay, however, is to seek help from online custom writing services. Our service also provides high-quality help as we greatly value our customers.
We ensure that your essay will have a clear purpose and will meet the paper requirements. We employ professional and experienced writers who are experts in their field of research, and therefore they will be able to provide a top-notch essay of any type and on any topic. Whether you need to write an opinion essay, a definition essay or an argumentative one, the fastest way to write an essay is to place an order at our service and devote your time to some more enjoyable activities.
BESTWritingHELP.org also offer 24/7 customer support service, so you can buy an order at any part of the day. In case you have any other questions and you need to urgently contact wither your assigned writer or customer support, you can easily contact them via messaging system or email. Remember that the fastest way to write an essay is to order it from us!