Start-ups do not only require a feasible business ideas but also knowledge and skills, which are equally important when managing the businesses. After being certain that the beginning of own business is the right decision, a significant amount of self-confidence is required in order to progress (Block & Wagner 2010). Self-confidence can be improved as time passes; however if one has a tendency to give up easily, managing one's business may be a difficult task. Successful businessmen are often passionate about what they are doing, they are competitive and determined. In addition, they tend to be creative, as well as resourceful, which implies that they rely on calculated risks. Through optimism and determination, successful entrepreneurs are confident in their ideas and themselves. When establishing a new business, it is imperative for one to be prepared to experience setbacks (Kirkwood & Walton 2010). The willpower to overcome such setbacks distinguishes failure and accomplishment. Moreover, establishing a new business is considered to be a difficult and solitary undertaking. Even with the support of friends and family, there are instances when one feels isolated. Faith in oneself is an important aspect for business start-ups owing to the fact that the start-up entrepreneurs are the primary driving force behind the newly established business. If one lacks belief in him/herself, it is difficult to make others believe in his/her idea (Kirkwood & Walton 2010; Sternberg & Wennekers 2005). A required trait for successful businessmen is a vision, in the sense that they have the capability of looking into the future and having the bigger picture. Moreover, successful start-ups require effective communication skills in order to deal with diverse people in diverse situations, such as angry customers and unproductive employees among others. Other important traits for successful start-ups include discipline and organization (Sternberg & Wennekers 2005; Williams 2009). The goal of the current paper is to identify the soft or people-related issues that are important for starting and running your own business, which focuses on the creation of a lifestyle brand of old age suites and living for the elderly people, who are middle-class income earners in India. The emphasis of the paper is on the importance of personal motivation, having the right mindset, work-life balance, and the requirements that a person may have as a business owner to influence others. Based on the specific business idea, personal motivation and having the right mindset are critical and thus will be discussed in detail.
Importance of Personal Motivation
Several reasons exist as to why people make a decision to start or stop their entrepreneurial activities. For instance, when terminating entrepreneurship, the owner of the business may opt to explore other lucrative opportunities in employment or may choose to exit due to bankruptcy (Williams 2009). Similarly, motivations to establish a new business can comprise of the positive pull factors, as well as the negative push factors that drive individuals to embark on business ownership. It is distinguished as necessity and opportunity entrepreneurship. It has been reported that opportunity entrepreneurs have higher satisfaction when compared to necessity entrepreneurs (Williams 2008). An entrepreneurial opportunity refers to a circumstance whereby goods/services can be launched and subsequently sold at relatively higher prices when compared to their production cost. Despite the fact that business opportunities tend to be objective, the manner in which people identify and exploit them tends to be subjective. To mak an entrepreneurial activity occur, it is important to discover and exploit the opportunity (Kirkwood & Walton 2010).
The discovery and exploitation of the business opportunity exist mainly due to the fact that different people have diverse beliefs regarding the relative value associated with resources, especially the market prices. Some people are capable of discovering business opportunities, whereas others are not due to a number of factors, including luck, having information, and the cognitive traits needed in discovering the value of business opportunity. Just like the case of discovering the business opportunity, deciding to exploit the opportunity is determined by both the objective aspect of the business opportunity, as well as the subjective nature of the potential business person (Block & Wagner 2010; Longenecker et al. 2013). A rational person will only make the decision to exploit the business opportunity when the opportunity is characterized by a higher anticipated value when compared to the opportunity cost associated with the best alternative. Due to the likelihood of people having various opportunities that differ in terms of payoffs, the inclination to take advantage of the opportunity then varies on an individual basis. In addition, individuals vary with regard to how they exploit a business opportunity in the sense that people use different ways of considering the costs associated with acquiring the resources necessary to take advantage of the available business opportunity (Kolvereid & Isaksen 2006). The availability of better capital, as well as stronger social ties, increase the ease with which one can acquire the resources to exploit the business opportunity. As a result, they have been reported to have a positive association with the chance of exploiting the business opportunity. Another important factor that influences the decision to exploit the business opportunity relates to the usefulness of information, including its transferability. Opportunity and necessity entrepreneurship differ in various aspects (Kolvereid & Isaksen 2006).
The difference between opportunity and necessity entrepreneurship depends on the voluntary nature of the business pursuit. Essentially, opportunity entrepreneurship is characterized by voluntary pursuit. The difference also stems from the way through which the business person came to engage in the entrepreneurial activity (Kolvereid & Isaksen 2006). For instance, when an individual makes a voluntary decision to quit his/her employment and establish a new business, the business person is considered an opportunity entrepreneur. In other words, opportunity entrepreneurs are driven by pull factors, whereas necessity entrepreneurs are driven by push factors to engage in a business undertaking. In such respect, opportunity and necessity entrepreneurship can be likened to the concepts of pull and push motivations for exploiting a business opportunity (Sternberg & Wennekers 2005; Williams 2009).
The discovery of business opportunities depends on the availability of information, access to information needed to discover the business opportunity, search processes, and social networks. Other aspects required for the successful discovery of business opportunities include cognitive abilities, intelligence, and absorptive capacity the three have been identified as the main personality traits that facilitate better utilization of information (Kolvereid & Isaksen 2006). Differences in terms of experience, as well as social networks between opportunity and necessity of business persons result in differences with respect to the discovery of opportunities and their subsequent exploitation. In addition, experience plays a crucial role in establishing new businesses (Longenecker et al. 2013). Experience offers a potential business person prior information regarding the market to explore, ways of using technology in serving the needs of the market, and ways of creating products/services that exploit the novel technology among others. A significant percentage of such experience often stems from the professional life of the potential business person. The job function of an individual increases the chances of gathering valuable information regarding the business opportunity. It is also imperative to note that, to some extent, gaining experience is an issue of initiative through preparation and planning (Williams 2008; Williams 2009). In addition, linkages with valuable social networks play a crucial role in the success of the newly established business. Social networks are important in diverse ways, including assisting the business person to have an access to resources that are less costly and more exclusive and are required to start and run the new business and offering privileged information access that can be important in the identification of more and better business opportunities (Kirkwood & Walton 2010). In addition, opportunity entrepreneurs are characterized by more adequate planning than necessity entrepreneurs, which increases their likelihood of developing social networks prior to embarking on pursuing the business opportunity. Their social network creation focuses on people who are important in the process of establishing new businesses, such as financiers, cofounders, and prospective customers. The planning advantage associated with opportunity entrepreneurship increases the likelihood of the start-up becoming a successful venture (Longenecker et al. 2013).
With regard to my start-up business, it can be profiled as a form of opportunity entrepreneurship. It is caused by the fact that the decision to establish the new venture was based on a number of pull factors. The decision to start a new venture stemmed from a number of intrinsic factors. After self-reflection, the decision to establish a new venture was motivated by the need to have control of my own life, freedom, and independence. I was motivated by the need for autonomy, especially in terms of the requirement for greater flexibility with respect to my personal life, and to have significant freedom in terms of adapting my own approach towards work. The personal motivation for starting the new venture also stemmed from the need to challenge oneself. In such respect, the decision to exploit the business opportunity was based on the requirement to accomplish something and be recognized, achieve a personal vision, make a positive impact in my community, and to reach a higher position in society. Through research, I was able to discover that healthy retirees in India do not like sharing their living settings with others who are frail. It is an opportunity worth exploiting through the creation of an old age scheme through insurance in order to help retirees in India refrain from feelings associated with hopelessness. Therefore, the new venture seeks to create a brand old age suites and living for the elderly in India. In India, there is a psychological stereotype characterized by old age home living being considered taboo. In this respect, my mission is to make old age home living socially acceptable through marketing in a way that is inviting rather than being a necessity. It is a viable business opportunity because it is a niche market in India that is yet to be explored. In addition, the well-established family business banner can be used alongside exploiting the business opportunity, strengthening my support, and building my trust and reputation among prospective customers. It is also imperative to note that majority of successful start-ups were opportunity entrepreneurships driven by intrinsic pull motivations.
Having the Right Mindset
Irrespective of the industry, successful start-up businesses need more than having the right product/service and marketing strategy, especially in competitive industries. For start-up businesmen, it is imperative to believe in ones mission in order to be able to overcome any doubts and challenges that might occur in the course of running and managing the venture (Avey, Wernsing & Luthans 2008). For start-ups to be successful, it is important to have the right attitude and the required competencies. One's attitude often contradicts with the one belonging to people he/she interacts with when undertaking business activities, such as investors, suppliers, employees, staff, and customers. Maintaining a positive attitude increases the likelihood that the people around will be charged with positive energy. Having the right attitude instills positive energy among employee and customers, which subsequently helps in the maximization of the business performance. On the other hand, maintaining a negative attitude results in isolation. Consequently, the end result is that customers will refrain from using one's products and services leading to the deteriorating business performance (Douglas & Shepherd 2002). Positive attitude is often associated with feelings of being in control and self-confident, which are important traits for start-up entrepreneurs. Negative attitude is detrimental to self-confidence, business performance, and can harm one's health, as well as mental skills. Nevertheless, it is worth noting that, in business start-ups, a positive attitude in itself is not sufficient. The potential entrepreneurs must be realistic regarding the market and economic environment. It is pivotal for the potential start-up businessman to ensure that the venture is in the best condition in order to be able to overcome possible problems and help maximize both long- and short-term business performances (Fredrickson & Losada 2005). Positive attitude can be maintained through a number of ways, including focusing on the positives, being aware of one's thoughts, presenting a positive attitudes to other people, focusing on what has been accomplished, surrounding oneself with others having positive attitudes, and avoiding associating with those with negative attitudes, and keeping the business goals and objectives in mind. Positive attitudes can also be developed through the recognition that it is a crucial requirement for business success (Avey, Wernsing & Luthans 2008). Failing to develop a positive attitude has been identified as a recipe for failure. In addition, it is imperative for start-up business persons to have an understanding that ones attitude depends on the opinions, ideas, and thoughts that occur during operation. Start-up entrepreneurs are required to be confident and understand that changing their attitude is a possibility to look forward, be positive and explore the available opportunities. In my start-up, a positive attitude is a crucial requirement for success owing to the fact that the customers of the businesses are retirees. Such customers require hope and optimism, which form the important role with respect to guaranteeing the success of the business start-up. Elderly people often feel helpless and lonely due to the fact that they live alone and that their children had already moved out. With such customer base, positive attitude is necessary for the business to be successful (Fredrickson & Losada 2005).
special offer
Our affiliate program!
Earn a 10% commission on the orders made by your friends. The more friends you invite, the more money you earn!
Learn more
Besides the positive attitudes, being passionate and persevering are the important aspects of having the right mindset. Steve Jobs, the co-founder of Apple Computers once said that the distinction between successful and non-successful entrepreneurs stems from their ability to persevere. Passion has been identified as a core requirement for successful venture of start-ups. Passion gives potential entrepreneurs additional energy required to successfully run and manage a start-up venture. In addition, it makes one to be resilient against problems that are likely to be experienced before the business stabilizes (Breugst et al. 2012). Although passion does not guarantee success, it plays a crucial role in helping the newly-established business to be successful. In this respect, for start-up business persons to exhibit perseverance, they have to be passionate about their vision and the products/services they are offering in attempt to address the identified problem. It is caused by the fact that sustained passion helps in overcoming the difficult times while, at the same time, ensures that the interest of the entrepreneurs is not diminished. In such respect, it is imperative to note that my planned business start-up is something that developed of passion and the need to solve an identified problem in my country (Breugst et al. 2012).
Another important aspect associated with having the right attitude is for would-be business persons to move out of their comfort zone, which is often characterized by being comfortable, lazy, and feeling safe (Liao & Gartner 2007). When establishing a new venture, it is imperative for prospective entrepreneurs to refuse from their comfort levels in order to stretch and panic zone. The stretch zone is characterized by trying out new things and is often marked by excitement, willingness to risk, anticipation, positive feelings, as well as engagement. The panic zone is often characterized by fear. As a result, a person is challenged to benefit using the resources at his or her disposal. Apart from being able to refuse from ones comfort zone, it is also important for prospective businemen to be prepared to fail. Start-ups do not usually run smoothly as expected. Consequently, it is vital to anticipate failures and develop measures that could be used in mitigating the factors contributing to the failure. In fact, the majority of start-ups often fail because they do not plan for failure. Moreover, it is worth to note that planning for an anticipated failure implies that one has negative attitudes; instead, it makes the prospective business person smart. In such respect, there is a distinction between thinking that the start-up is going to fail, and planning and preparing for any instance of failure (Liao & Gartner 2007). Preparing and planning for failure is concerned with being thoughtful, as well as practical regarding all the potential possibilities. In addition, planning for failure helps entrepreneurs to be more neutral. Establishing a new venture can turn out an extremely emotional experience. The new venture is young, therefore, compelling oneself to plan and prepare for worst-case outcomes can help in counterbalancing the expectations associated with newly established business. In addition, the recognition of a potential failure can keep a would-be entrepreneur active and self-confident rather than complacent (Breugst et al. 2012).
Importance of Work-Life Balance
Venture start-ups are often stressful undertakings. Start-up business persons often work hard in managing and running their businesses in order to ensure that the venture is sustainable. However, in cases whereby start-up founders are often concerned about the success of the venture, they most probably disregard their employees' needs (Livingston 2007). There is an agreement in literature that people working for newly-established ventures often struggle balancing their work and personal lives. In addition, some start-up companies have been reported to extend the working hours for their employees (Nash & Stevenson 2004). Rather than compelling employees to make sacrifices regarding their personal lives, newly-established ventures ought to ensure a work environment whereby employees are capable of striking a balance between their work and personal lives. Given the demanding nature of start-ups in terms of attention, energy and time, it is often thought that achieving work-life balance is impossible for both the entrepreneur and his/her respective employees. For most start-up business persons, the common belief is that successful start-ups require spirit. As a result, they are required to work and exhibit 100 per cent commitment to the venture in order to make it successful. By emphasizing the importance of work-life balance, venture start-ups have been likened to marathon, whereby it is important to regulate one's pace and adopt long-term thinking in order to mitigate the risk of burning out and failing to finish the race (Nash & Stevenson 2004).
At the personal level, there are numerous activities that can be adopted in order to enhance work-life balance, such as hiring top talents and trusting them to accomplish their tasks, tackling burnout immediately, avoiding procrastination, planning, and avoiding late-night work. Work-life balance is not only important for the start-up entrepreneur but also for his or her employees. In such respect, it is imperative to take into consideration the needs of employees, including their personal lives demands. For start-up employers to improve satisfaction and productivity of employees, it is imperative to address their personal needs. Employees can be allowed to telecommute occasionally, especially in start-ups, whereby there is no need for the employee to have direct contact with customers (Livingston 2007). It is also recommended for start-up employers to refrain from piling work responsibilities on workers. Despite the fact that most start-ups face restraints in terms of the resources required in hiring human resources, it is vital for the start-up employer to check with employees if they are mentally and physically capable of taking additional work assignment. Given that start-ups require longer working hours, the employers must be able to recognize mental illnesses among employees that are likely to have a negative impact on their performance (Livingston 2007).

Top 10 writers

Your order will be assigned to the most experienced writer in the relevant discipline. The highly demanded expert, one of our top 10 writers with the highest rate among the customers.
Hire a top writer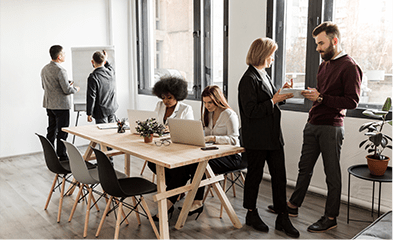 Requirements for Influencing Others
As mentioned before, establishing a new business is a difficult and stressing task. As a result, successful start-ups require one to have a formidable team sharing the same vision. In its turn, it requires apt leadership skills that can be used in influencing other people and making them to work towards the achievement of the intended vision (Cohen & Bradford 2005). In start-ups, there are instances whereby receiving the help of other people may be a difficult task. In such circumstances, it is imperative for the start-up business person to have the skills needed to influence others. The first Influence Model is sometimes referred to as the Cohen Bradford Model, which can be helpful in influencing others. The model assumes that authority is often problematic and that it does not guarantee that the people around will provide the required help. Moreover, authority can generate fear, as well as motivate others to action based on purely wrong reasons. As a result, it is imperative for start-up entrepreneurs to have the capability of influencing others without necessarily relying on authority (Cohen & Bradford 2005). The influence model draws upon the reciprocity law, that is, the view that the negative and positive things done to others are often paid back. The model is based on a number of steps, including the assumption that every person can offer the required help, prioritize objectives, understand the situation of other people, analyse the relationship, and make the exchange (Cohen & Bradford 2005).
Conclusion
The issues identified as important with respect to my start-up include personal motivation, having the right mindset, work-life balance, and the requirements that I may have as a business owner to be able to influence others. Regarding personal motivation, it is evident that my start-up is an instance of opportunity entrepreneurship that is motivated by intrinsic pull factors, such as have control of my own life, freedom and independence, and the need to challenge myself. The issue of the right mindset focuses on having the right attitude (positive), being passionate and persevering, moving out of the comfort zone, and planning and preparing for failure. In addition, achieving a work-life balance is an important requirement for the start-up due to its demanding nature. Lastly, the Influence Model will be a helpful tool for influencing others.